Because the craziness of my world is finally slowing down, I thought I'd spend some time introducing some of the beautiful people I work with in the wedding industry.  Hopefully on a weekly basis, I'll give the lowdown of what its like to work with some industry professionals (from a wedding celebrant's perspective).
This week, to kick us off, is the amazing Tom Hall Photography.  Like me, Tom travels a lot – he goes anywhere but is based near Brisbane.  As a Marriage Celebrant I can only marry people within Australia (but usually around Sunshine Coast, Brisbane and Gold Coast) – Tom gets asked to places like Bali and Fiji! (I'm jealous does it show?)
Tom said to me a few months ago: "I really like photographing your weddings – I like to take pictures of the guests – and with your weddings, they're always laughing and smiling."  Nice – thanks Tom  🙂
Tom is an absolute pleasure to work with – he is the ultimate professional, and relaxed and happy and stable 🙂  and most importantly, his work is A.Mazing!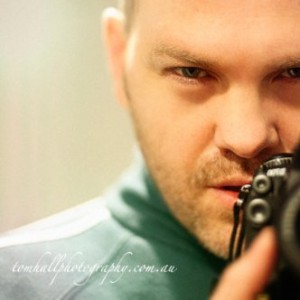 Check out his facebook site for regular updates of his latest works of art : www.facebook.com/TomHallPhotography?ref=ts&fref=ts
and his website has a beautiful gallery of work :  http://tomhallphotography.com
These pics are of Dale and Kirra: I married them in the Sunshine Coast hinterland and they'd booked Tom as their photographer.  The heavens opened up right in the middle of the ceremony.  The couple were gracious and beautiful – and Tom handled himself perfectly, no stress, no panic – just a smile and calm demeanor which I think is one of the essences of his beautiful work – he is actually a beautiful person  🙂  (Trust me I've seen some industry 'professionals' go to water in a crisis).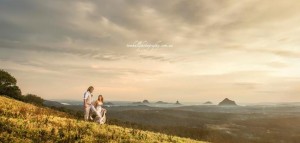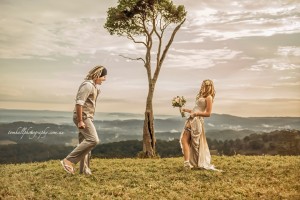 One of the amazing things about Tom is he's multi-talented.  Not only does he take brill piccies he's an internet singing sensation and was recently awarded the international "Singer of the Year" on an international online voting contest and he attended the 2010 Grammy awards in Los Angeles.  Check out some of his tunes and you'll be a fan too 🙂
She don't need no Hollywood by Tom Hall
enjoy  🙂