Legal Stuff
Most life-changing moments are ruined by paperwork - nobody likes paperwork.
Weddings fall into this category.  Though really, getting married in Australia is pretty simple - if you want the low down of what's needed, and maybe dispel some popular wedding myths, head here.
If you're planning on tying the knot, then irrespective of where you decide to marry in Australia, you will need to complete and lodge a Notice of Intended Marriage (NoIM) and have it witnessed in front of a Justice of the Peace or other authorised person.  I'm a Justice of the Peace (Qual) so I can help you with this.  If you book me as your celebrant, I'll have you fill in all your details online - then I'll be emailed your completed NoIM and I will either email you the pdf for witnessing, or you can sign it in front of me when we design your ceremony (as long as there's a month in between).
Along with the NoIM you need to supply evidence that you are who you say you are.  I'll need to sight some original photo identification, usually driver's licenses do the trick.  I'll also need to sight either your original birth certificates or passports - and bonus! you can just scan these through to me.  If you've been married before a Divorce or Death certificate from your most recent marriage will also be required.  Birth certificates and Death certificates can be obtained from Births Deaths and Marriages where the birth or death occurred.  Divorce papers can be obtained from the Magistrates Court where the Divorce was finalised.
When you've completed the paperwork it needs to be lodged to me one month prior to your wedding. So if your wedding is 09 November 2023, then the latest you can lodge your paperwork (or, in other words, give it to me) is 09 October 2023. There's only a few ways to reduce this one month waiting time and I can help you with this if you're eligible.  The good news is that I can hold NoiMs up to 18 months before your wedding date, so you can lodge early.
Application for marriage certificate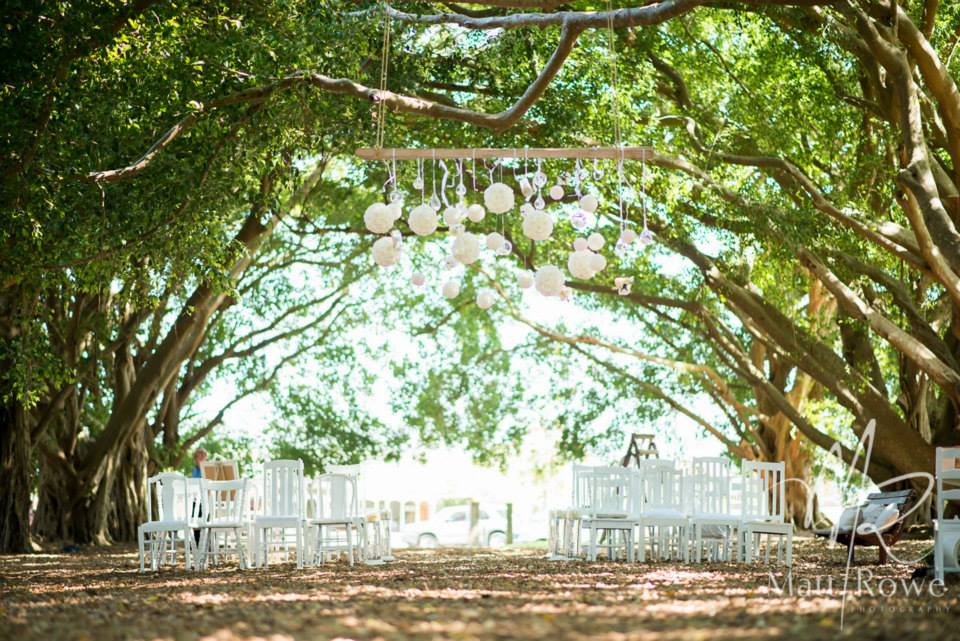 WHERE CAN I GET MY BIRTH CERTIFICATE?
If you were born in Australia, go to the Births, Deaths and Marriages (BDM) website from the State/Territory you were born and apply for your birth certificate. Costs may vary and it usually takes a few weeks for the certificates to be posted to you, although if you need it faster, there will usually be an additional fee.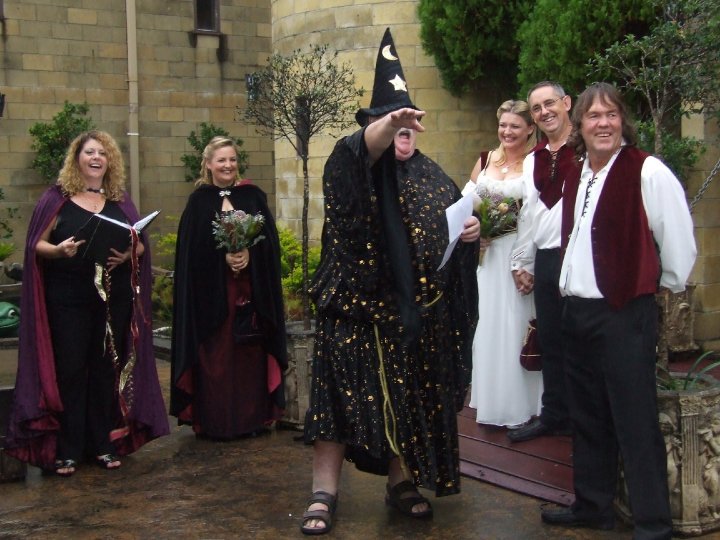 SOME COMMON QUESTIONS
I've been married a couple of times before, what do I need to provide?
You will need to supply the death or divorce certificate of your last marriage only - not all of them. See the list of Births Deaths Marriages in each State if you don't have this paperwork.
I can't find my birth certificate. Will my passport do?
Yep, and expired passports are okay. If your passport has been cancelled though, we can't use it.   And you can scan all your ID through - simples.
I was born overseas?
You can supply either your overseas birth certificate or the passport from your country of birth. If you supply your overseas birth certificate, I must be able to understand what it says - so if it's in Chinese for example, you'll need it translated through an accredited agency, because I can't read Chinese.
We're both under 18, can we get married?
No, one of you must be 18.  The other will require adult permission.  Ring me to discuss this.
We're related.  Can we marry?
That depends on how you are related, for instance, a brother and sister cannot marry, but cousins can.  Best to ring me.
I've heard that there's legal stuff that has to be said in the ceremony.  What is it and do I have to have it?
The Marriage Act 1961 states that I must say the Monitum which identifies who I am and that I'm registered and that marriage is "solid and binding".  It also states what marriage is according to law in Australia, which is:  "a union between a two people, to the exclusion of all others, voluntarily entered into for life."  At the end of this, I ask if you both understand what you're getting yourselves into -  hahaha - well, not quite like that, I actually ask the question: "Do you understand the nature of the commitment you're about to make, and do you wish to become husband and wife/husband and husband/wife and wife?  NB. The answer to this question must be yes (otherwise I can't legally marry you ... eeeek!)
Also, in your vows, you both must say:  "I call upon all persons here present to witness that I (full name) take you (full name) to be my lawfully wedded wife/husband/spouse", and these must be  audible to your guests.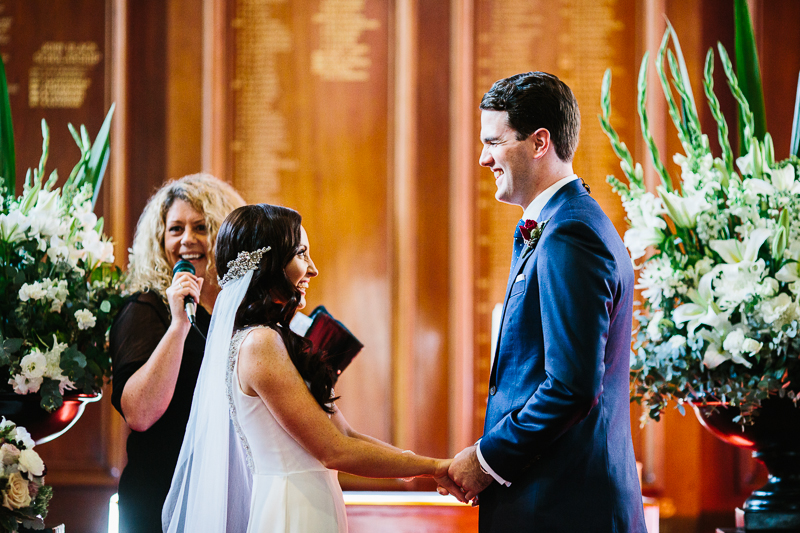 AFTER YOU'RE MARRIED
Congratulations, you're married...that was the easy part. The hard part is wading through the paperwork to change your name. The basic rules are: You can start using your married name straight away but for documents like your driver's licence, passport, and bank accounts, official proof is required. The pretty decorative Certificate of Marriage I give you on the day is no longer acceptable in many cases, however you can apply for the official Certificate. If you book with me, I'll  be happy to send this into Births Deaths and Marriages with your marriage registration documents - the cost is under $55, and this will give you the power to change your name on all documents.  If I do this for you, you won't need to supply any of ID they'd usually require, so I think it's worthwhile.
BOOKING THROUGH COUNCIL?
The smallest legal wedding in Australia must have five people: the couple (derr), the Celebrant and two witnesses over 18. If you're eloping or having a small ceremony (20 or under guests) on public land, then you probably don't need to bother booking with council. However, if your venue is a really popular spot or at a particular intimate little cove on a popular wedding day, it may be best to book to ensure the spot is yours. Remember though that any place you book through Council is public land and as such, the Council has no power to stop other people from being where your ceremony is. So if another wedding party rocks up and neither of you have booked ... well, there could be problems.  I've included some of the local Council websites below.  Remember, prices vary with Noosa wedding bookings being the most expensive.
Sunshine Coast Regional Council
Sunset times
Sunshine Coast tide times
I am a professional wedding photographer and I have photographed over 300 weddings in last 10 years. Lynette officiated quite a few of them and I must say, she is one of my favourites. Her professionalism, caring and loving nature and a wonderful sense of humour put a smile on every face and a tear in many eyes. If you want to have a wonderful, fun filled ceremony that you'll love and remember for the rest of your life, give Lyn a call.                                 Andrej, Artisan Photography
Lynette has a way of making your ceremony unique, interesting and fun. There are laughs and tears - everything a great ceremony should have. As a photographer I have seen 100s and 100s of weddings, they all seem to sound a bit the same, so she has a true talent to keep it different for each individual wedding. I can highly recommend, you won't be disappointed.       
Jaya, Empire Art Photography