Love notes from some happy couples
ADELE AND TIM
Lyn, you did such a fantastic job for our wedding ceremony and, besides some of the boys dancing to Eagle Rock with their pants around their ankles (apparently this is how it is supposed to be done), you were the highlight of our wedding. All we wanted was for everyone to have fun at our wedding and for us not to stress out too much in the preparations.
You didn't just make it fun for us, but an awesome experience! You also took the stress out of writing our own vows by giving us loads of helpful hints and giving Tim the confidence he needed to write them. Being a bloke and thinking he wasn't any good at writing, his vows ended up being great and memorable. Your idea of the memory / anniversary gift box part of our ceremony was such a good idea that when people saw it and understood what it was, it became a talking point of our wedding and we're sure has started a trend amongst our friends and family.
You made Zander, Tim's son, feel that it was his wedding too by surprising him and involving him. He felt like he was very important without the huge responsibility of being part of a wedding. Because of this he had heaps of fun. Neither of us felt nervous on the day and it was one laugh after the other with none of that soppy stuff we didn't want. We felt that you were a long-time great friend doing us a favour by legally marrying us and formalising our relationship in front of our nearest and dearest with a few extras.
Thanks for making our wedding ceremony everything that we wanted it to be and more, without any of the things we didn't want. It set the standard and "vibe" for the rest of our special day and nothing could ruin it for us!
Thank you Tim and Adele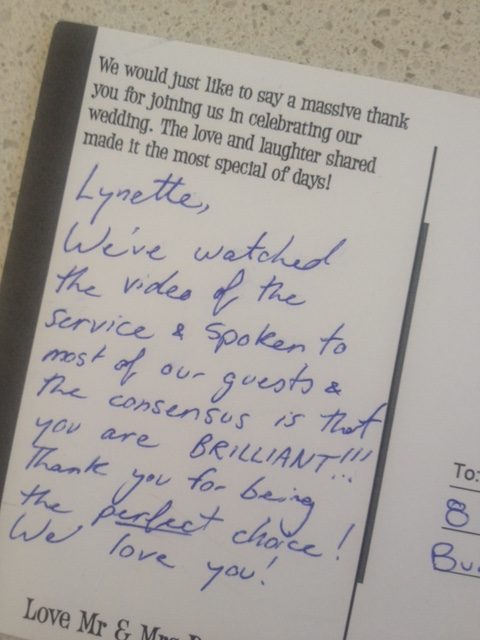 TARA AND NATHAN
Our ceremony was absolutely amazing. You did such a wonderful job. I can't even express through words how perfect it was for Nathan and I. We loved how relaxed it was and how you made it so personal. It was great how you took our homework and made it into a ceremony that was us. All of our guests could not stop talking about how fantastic the ceremony was and how professional and fun you were. So thankyou sooooooooooo much for making our day perfect and fun. When we met you we knew that you would be a great celebrant, but seriously you are incredible.
Tara and Nathan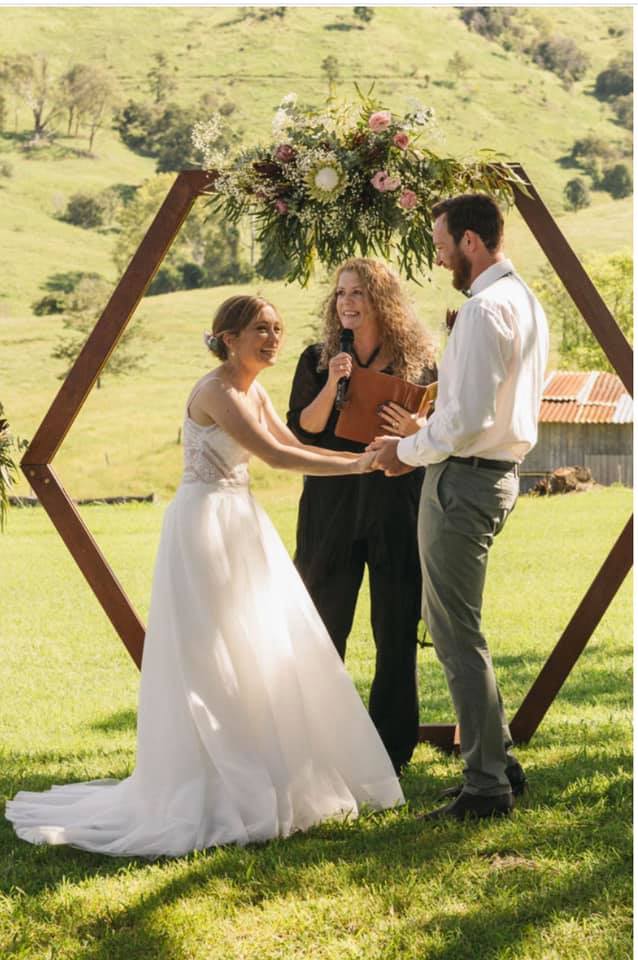 BEC AND DICKO
Hey there our fantastic celebrant: you were truly amazing and calm and relaxed which made me that way. Also, what you said was awesome and i had so many people comment on how touching and personalised and nice the ceremony was. i loved every moment and glad that the jelly worked out and all went well. We loved having you as our special celebrant and to be part of our day. you are so great at what you do and I think that you are such an amazing person so just keep up what you are doing as you are doing it dam well. will definitely keep in touch if you do too... Bec and Dicko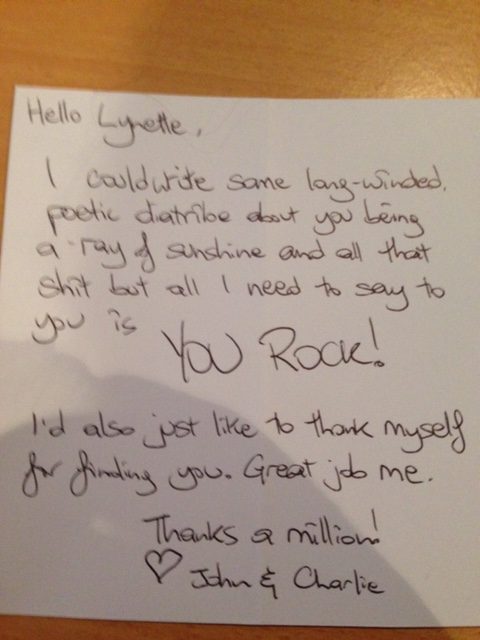 LAUREN AND SIMON
Oh my god, we had the BEST day at the wedding. So much fun... Everyone commented on how cool the ceremony was, everyone laughed and cried which is exactly what we wanted... :) Couldn't have asked for a better day, everything went perfect...Thanks so much for your help. Some of the pics are just perfect, you can tell Simon is saying his vows because you and I are pissing ourselves... The pics came out great of the ceremony, showed exactly what it was like.. Well I think so. I was so friggin nervous walking down that isle and I was so stunned to see Simon in a suit, he looked hot to trot. In nearly 7 years of being together, I have never even seen him in a dress shirt let alone a whole suit and tie...SMOKIN :) Thanks for everything Lynette, you were fantastic and our ceremony was PERFECT - Wouldn't changed one single thing about the whole day... Except we both wanna get divorced now and do it all over again!!! :) Maybe renew our vows every year...Just pencil us in will you for the 26th April every year... :)
Lauren and Simon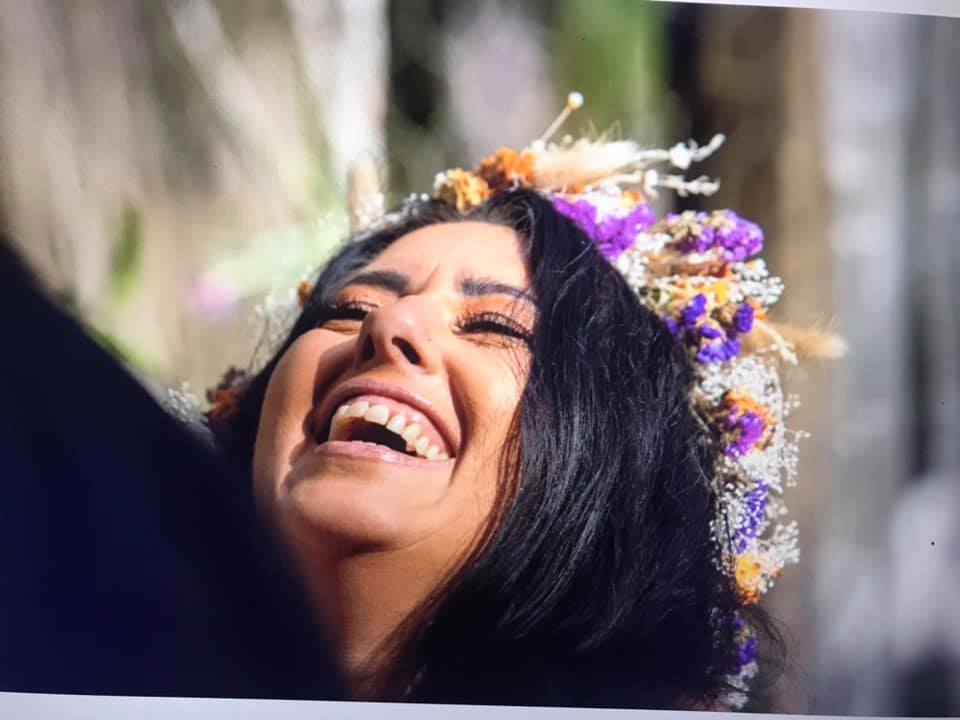 GILL AND COLIN
We guess that most people will always say their wedding was the most perfect day of their life, regardless! But we can honestly say that travelling up from Melbourne to Maroochydore, not being familiar with the area, not knowing a sole and being totally reliant on people we had never met before would have been somewhat difficult and potentially very stressful - the reality for us was so far from it. We can sincerely say that our special day was made perfect due largely to the wonderful people who helped us in so many ways.Thank you Lynette; you and your wonderful team looked after us in such a professional, and a relaxed and friendly manner. We often relay our fantastic story to our friends and family of just how lucky we were to have found you, we couldn't have wished for a better location and people to spoil us rotten and make us feel soooo special. Lynette, we wish you continued success in your business - you certainly deserve it! You have a wonderful, very likable, humorous 'down to earth' attitude combined with a great personality and a lovely demeanor for this type of work.Keep on making people happy...........!           Love Gill and Colin x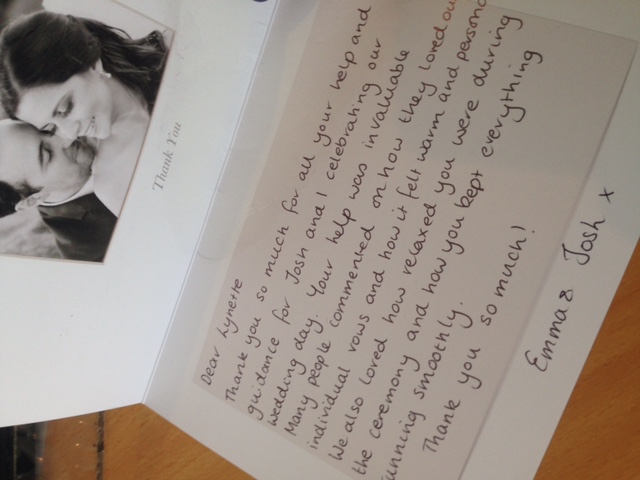 MICHELE AND DWAYNE
Hi Lynette!! What can we say???....... THANK YOU ... THANK YOU ... THANK YOU!!!!! Our wedding day was perfect..... and largely, that's thanks to you!!!
We LOVED the way you did the Ceremony.... Looking back over photos..... you helped us achieve exactly what we wanted... lots of laughter, but emotionally charged at the same time!
I felt so loved & adored by my wonderful man... your help with creating our own unique ceremony was awesome... writing our own vows & not knowing what the other had written until that moment was priceless... you made the whole thing so personal ... we were also thrilled that even though the weather wasn't great, you didn't try to rush the ceremony... thank you so much!!
You ARE fabulous.... our friends & family raved about you ... the number of times we heard people saying it was the best wedding they'd ever been to was incredible..... we just can't speak highly enough of you to anyone who'll listen!.... you deserve every award you've ever won... and in our eyes.... you're ABSOLUTELY FANTASTIC!! Added to all of that, your style, personality & beautiful smile made it all complete.... :0) Even though our wedding is now a memory, I really hope we can stay in touch... you rock girl, and I'd love to say you're one of my friends!!! Thank you again!!! We love you Lynette!!!