You can spend months and even years planning the most important day of your lives. The fine details, the broad details, and all the details in between. The thing is though – sometimes shit just happens! But it's how you deal with it that will make the difference between a brilliant day and one you're remembering for all the wrong reasons.
I'll give you an example. Beautiful couple Jess and Chris have been together for 8 years: they're happy, vivacious and a pleasure to be around. I really loved being their celebrant – they were like my perfect couple. I remember telling them that because they have such a great attitude about their wedding (something like: whatever goes wrong on the day won't diminish the eye on the prize mentality, that is, they'll be married)
As the lead up to the wedding went smoothly, their big day arrived. The styling was set up and looked pretty when I arrived. The musician arrived. Guests started arriving.
There would be no cake, and therefore no dessert. Eeek!
Unbeknownst to any of us the cake lady was on the phone to Jess saying she'd just dropped the cake and it was ruined.
Jess' mum jumped into action and arranged for a large white mud cake and a small white mud cake to be collected from The Cheesecake Shop, and these were delivered just prior to Jess' walk down the aisle. At least there would dessert, but as yummy as they are, they looked nothing like a wedding cake.
The ceremony was amazing – full of laughs and tears and joy! My favourites.
I snuck in to the reception when I heard about the cake disaster and saw The Cheesecake Shop mudcake creation turned into a mini-masterpiece by the staff who used leftover florals to create a beautiful wedding cake.
Well played Surfair, Marcoola – well played.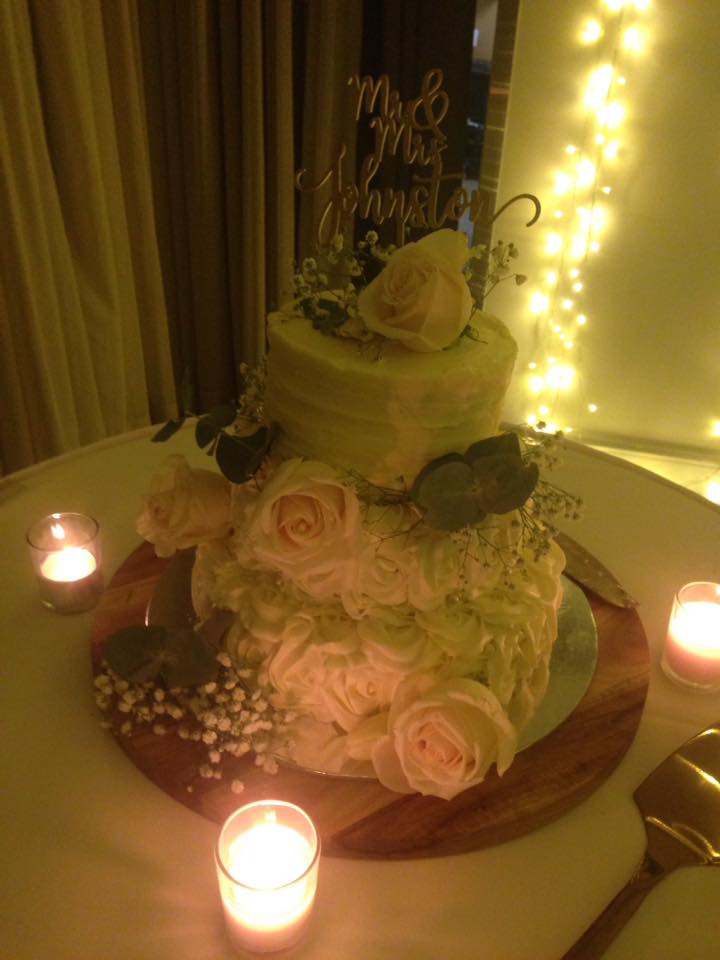 The smashed cake was delivered the next day (with no delivery charge) and everyone enjoyed some morning tea – laughing all the way.
And that's how you deal with stuff that goes wrong – as it often does.