While the world mourned some great musicians, actors, writers and minds, the year of Lynette Maguire was an absolute cracker!
I'm a pretty positive person naturally, and yeah stuff happened, but by and large 2016 for me, was the bomb!
2016 was my biggest year of weddings to date. I met loads of loved up couples who absolutely loved their ceremonies. One of things I love about what I do is that each wedding is different, because each couple is different – so no two weddings are ever the same! Also, a lot of what I do is ad lib (hey you can plan these things down to the micro-second, but sometimes life throws curve balls at you) and I love the spontaneity, joy and laughter at these times!
Weddings are inherently emotional, because, well, they're weddings – but it doesn't mean they need to be boring. Being all loved up can be fun too! And I've had loads of fun this year – I can honestly say there's not a couple that I didn't connect with, or who didn't adore their ceremony! It's the connection that really matters, you see. Here's a few pics: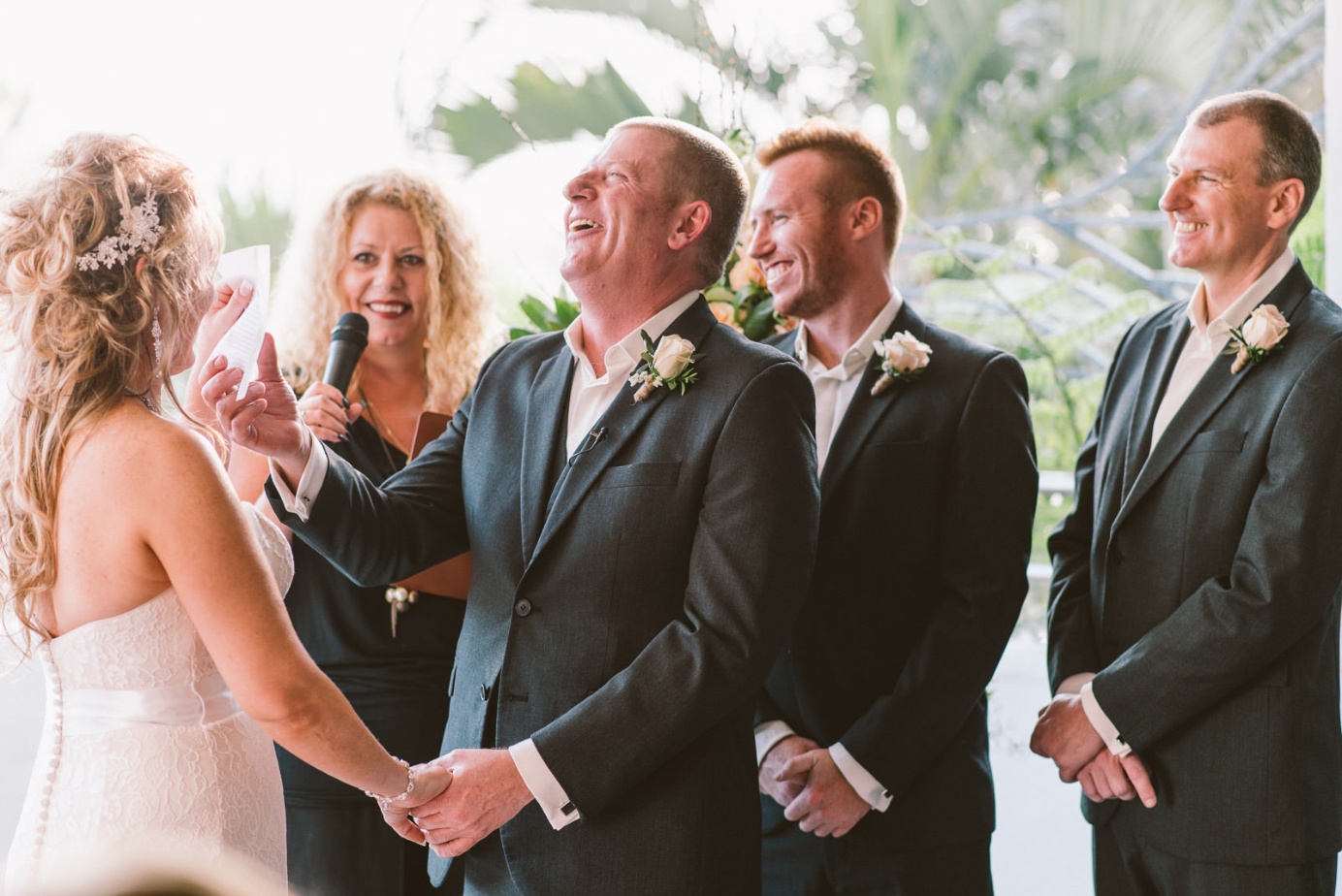 So, what happened this year, besides awesome weddings?  Well, I conducted 4 funerals this year and 5 same sex commitments.   Lynette Maguire Marriage Celebrant was interviewed by media a couple of times, chatting about trends in weddings, same sex marriage and ceremony venues on the Sunshine Coast.
MY OTHER LOVES
And aside from that, I taught in Semester 1 at USC.
I was asked to be keynote speaker at five (5) events this year – talking about my Doctoral research into the influencers of teen behaviour (social networking, narcissism, violence, cyberbulling, suicide) through my consultancy business Now Generation
My doctoral research was published! Whoot!
My discussion cards are selling well. They're designed to start conversations with teens about stuff that matters.
My next book, Selfies, sexting, savagery and suicide: Welcome to the era of narcissism which is written for the parents and caregivers of teens, is out next year – this is what it'll look like:
MY BABY, MY WEDDING WISH LTD
My baby, My Wedding Wish Ltd is now registered as a national charity with DGR status (that means we can give tax deductible receipts) yay!! For those who don't know, My Wedding Wish has been running since 2013 and we gift weddings to the terminally ill. To date we've gifted over $250,000.00 worth of weddings, renewal of vow ceremonies and same sex commitments. If you know anyone who fits the criteria (terminal) and they want to be married but can't because of all reasons when you're terminal, send them to me! J
A story in the local Profile magazine made the finalist's list of the 'Most Inspiring Story of 2016' – we didn't win, but we always love the love!
The gorgeous folk at the RACV Resort in Noosa (highly recommend for weddings) held a Melbourne Cup lunch for My Wedding Wish, and raised $2,000 for us!  Thank you RACV  xx
The other fabulous folk from Mercure at Kawana (another great wedding venue), held a Christmas Party for all the wedding suppliers of the Sunshine Coast, and proceeds were donated to MWW also.  Thank you lovely people!
Our Steering Committee have been hard at work and we're almost rolled out around Australia. It's been a long journey but we're now gifting weddings other than in SE Queensland!
To top it all off, My Wedding Wish has been nominated in the Sunshine Coast's 2017 Australia Day Awards! Whooot!
AND WELL, I THINK THAT'S ENOUGH!
I'm jumping out of my skin for an amazing 2017!  I had computer issues where for 2 months my website contact form was down so I missed SO MANY enquiries!   But we're back into the swing of things now!
I hope your 2017 is brilliant. xxx