If you haven't heard, Queensland is in the midst of a heatwave!   My facebook feed is full of temperature gauges!
Which brings me to the point of this post :  what do you do about weddings in weather like this?   It's day's like today, personally, I'd be hoping my bride moves everyone to an air-conditioned alternative – typically, the wet weather venue.  Trust me your guests will be grateful and you won't look like you've melted with running makeup, and wet hair.  Boys in full suits in weather like this is just cruel!  But, if you're adamant on having an outside ceremony – here's some hints:
Try to move the ceremony into the shade
Have umbrellas or parasols available
Have bottles of water on ice for guests
And sunscreen!
And …. Don't be late – that's just cruel!
Remember, most of the suppliers will turn up to 30 minutes before your ceremony, and some don't leave to well after the ceremony has finished and guests have left – that can be a l-o-n-g time in sweltering heat!  Your guests will arrive up to 30 minutes before hand too! So take it easy on them.
I recall a February many years back it was a super hot day and the ceremony was to take place at Mooloolaba Beach in full sun – the couple wouldn't move it.  This is what happened:
No-one was interested in the ceremony – this is a time when Maslow's theory kicks in – basically people don't give a shit about weddings and love and self-actualisation if they're being fried.   The 14 year old niece who had been asked to sing had no idea of protocol in times like this and she sang.every.single.note.and.every.single.chorus… bloody song took forever.  Nobody listened.  They were too busy melting.  Even though I'd cut the ceremony – two people fainted (true story).  The bride's fake tan melted all over her gorgeous pink princess gown (she took it really well though – lovely lady!) …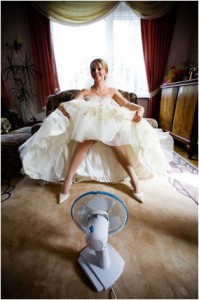 so, do what you can to keep everyone hydrated and cool – including yourselves! Everyone will be forever grateful!  Trust me  🙂