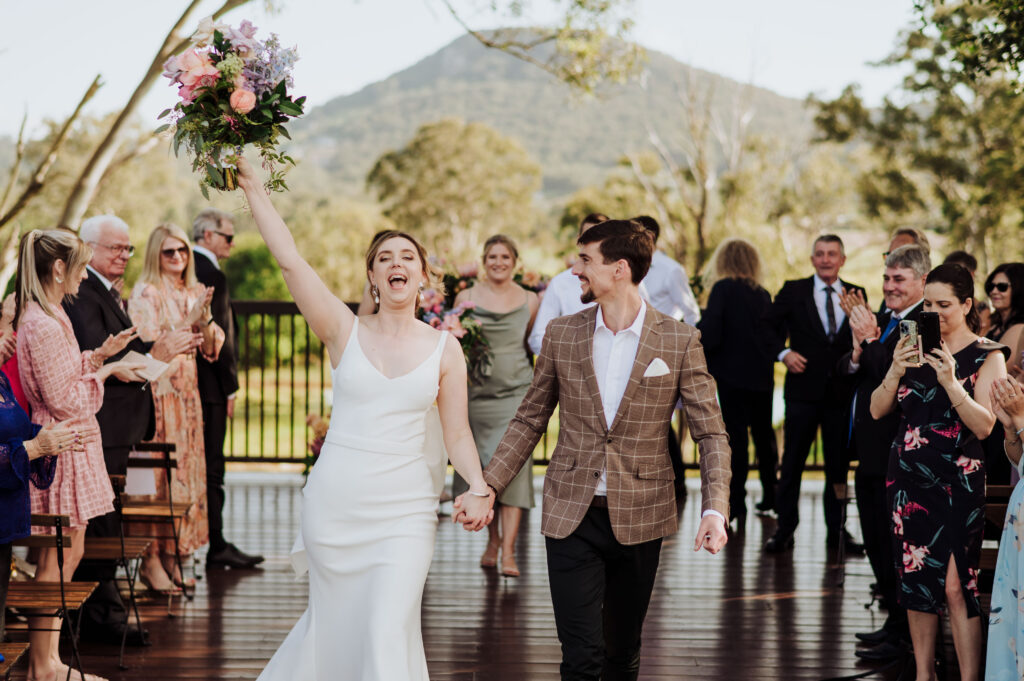 The Sunshine Coast in Queensland, Australia, is a beautiful location for a wedding elopement, pop-up or destination wedding. With its stunning beaches, picturesque hinterland, and perfect weather, it's no wonder that many couples choose to marry here. I'm not sure of the stats now, but we used to be the 7th most popular wedding destination in Australia. I reckon we've climbed the ladder over the years and because of this, there's a LOT of celebrants available.
So to make your wedding day truly special, you need to find the perfect wedding celebrant for you.
A wedding celebrant is such an important part of your wedding day: They'll be the one who writes and conducts your ceremony, and they can really set the tone for the rest of the day. A great wedding celebrant will also work with you to create a personalised ceremony that reflects your personalities and your love story.
Here are some tips to help you find the perfect wedding celebrant on the Sunshine Coast: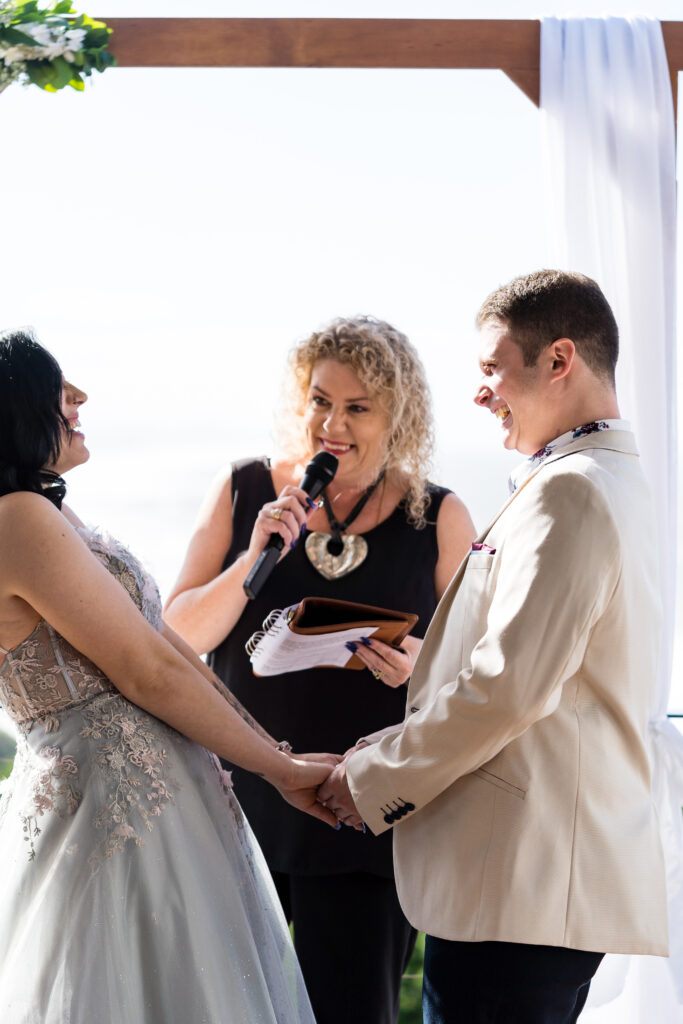 Look for someone who matches your style
Your wedding celebrant should match your style and personality. Do you want someone who is traditional or modern? Male or female? Chill or formal? Look for a celebrant who matches your style and who you feel comfortable with. Listen to your gut instincts – that's what they're their for. You can even tell their style but reading stuff they've written and looking at pictures of their weddings – if you want a fun wedding celebrant and no-one is laughing or smiling in their pics, it might be that they're trying to be someone they're not.
Read reviews and ask for recommendations
Look for wedding celebrants on the Sunshine Coast who have good reviews from previous clients. Ask friends and family members if they have any recommendations. You can also ask your wedding venue if they have any preferred celebrants that they have worked with in the past (keep in mind though that some have only one or two of each supplier.)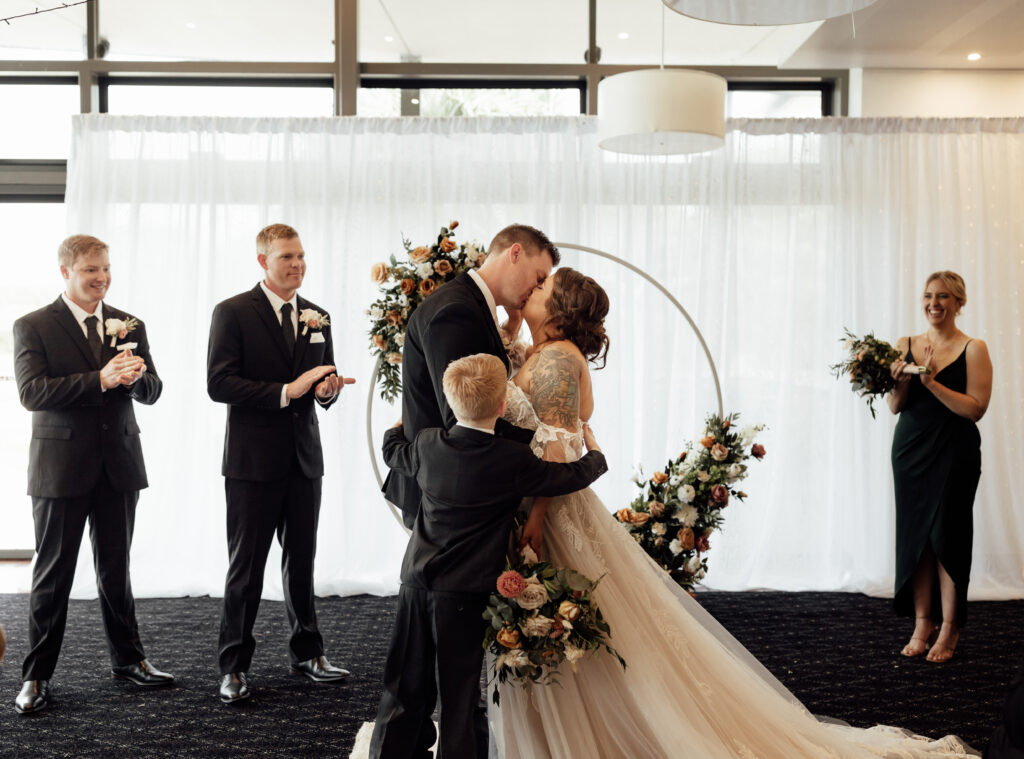 Check their availability
Once you've found a few wedding celebrants you think may be suitable, check their availability for your wedding date. You don't want to fall in love with a celebrant only to find out that they are already booked on your wedding day (and a popular celebrant can book out 2 years in advance – though Covid did knock that around).
Meet with them in person (or by Zoom)
Before you make a final decision, it's a good idea to meet with your potential wedding celebrant in person. Though in saying this about 80% of my couples use their instincts and book me without meeting, leaving 20% wanting to meet face to face or by zoom. This will give you a chance to get to know them and ask all the questions you have. You can also discuss the type of ceremony you want and get their ideas and input.
Discuss the cost
Make sure you discuss the cost with your wedding celebrant upfront. You don't want to be surprised with unexpected fees later on. Ask them what their fee includes and if there are any additional costs. Some wedding celebrants will discount on weekdays (I do), others don't. Some will add costs on for public holidays, but in any case it's always good to ask. If the celebrant you love is a bit more than what you've budgetted for, let them know and let them know your budget – some will offer reductions, others will wish you well. It's all part of the bargaining process, we're used to it.
Six questions to ask your celebrant before booking
When you're looking for a wedding celebrant, it's important to find someone who not only matches your style and personality but also who understands your vision for your wedding day. To help you find the right celebrant, here are some questions to ask during your initial meeting:
What is your experience as a wedding celebrant? You'll want to know how many weddings they have performed – most celebrants only do about 10 weddings a year but might say they've had 10 years' experience – which is only 100 weddings (professional weddings do this (and more) in a year). Also, ask if they have experience with your specific type of ceremony (e.g., religious, non-religious, cultural, etc.)
How do you personalise each ceremony to the couple? A good celebrant should be able to create a unique and personalised ceremony that reflects your personalities, beliefs, and love story. Ask them how they go about this and if they have any examples of ceremonies they have done in the past. Many couples ask for video of past weddings.
How do you involve family and friends in the ceremony? If you want to involve your family and friends in your ceremony, ask your celebrant how they can help make that happen. For example, can they include readings, rituals, or other meaningful elements that involve your loved ones?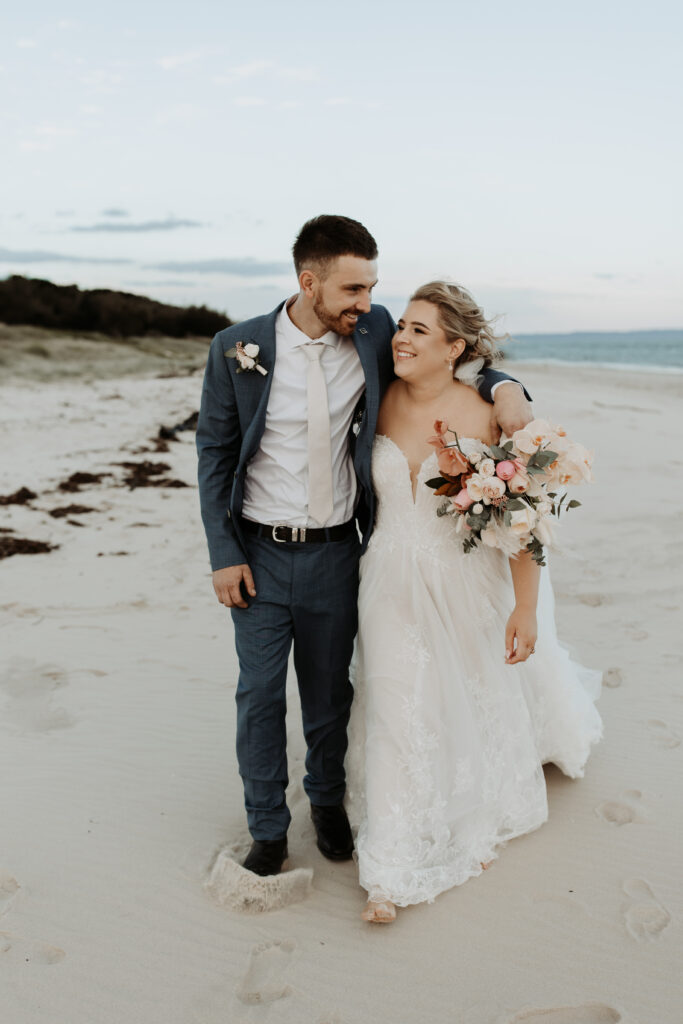 How do you handle unexpected situations or last-minute changes? It's always good to know how your celebrant will handle unexpected situations, such as weather changes, late arrivals, or any other emergencies that may arise. Ask them if they have a backup plan in case something goes wrong. A great wedding celebrant will always have a few celebrants to contact in case something happens on the day eg., Covid, flooded in, etc.
What is your fee, and what does it include? You'll want to know how much the celebrant charges for their services and what is included in their fee. This will help you budget for your wedding day and avoid any surprises later on.
Are you willing to travel to our wedding location? If you're getting married outside of the celebrant's usual service area, ask them if they are willing to travel to your wedding location and if there are any additional costs associated with that.
By asking these questions, you can get a better understanding of whether the wedding celebrant is a good fit for you and your fiance and if they can help you create the perfect ceremony for your special day.
Finding the perfect wedding celebrant on the Sunshine Coast is an important part of your wedding planning process and success. By following these tips, you can find a celebrant who matches your style, has good reviews, is available on your wedding day, and fits within your budget. Once you've found them, ask them for recommendations of their favourite suppliers so you get a real winning 'A' team for your wedding day. This will help ensure that your wedding ceremony is everything you have ever dreamed of.